The two canister lights pictured were built from scratch after reading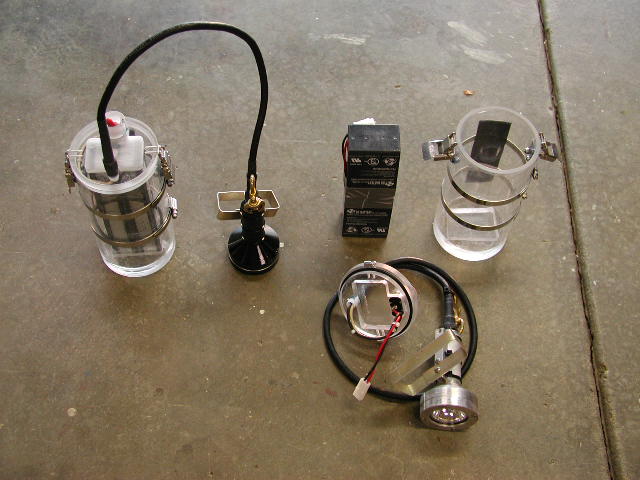 (Click on any of the following pictures to enlarge)
Here is one light assembled and ready to go diving.

The two batteries are connected in series providing 12-volts at 4.7-amper/hours. This coupled to a 35-watt bulb gives a comfortable 40-minutes of burn time and plenty of reserve.

Here is the wreck head which was turned out of billet aluminum and utilizes a MR16 bulb.
I happened to have a scrap section of lexan tube. With a bit of forethought and careful cutting I was able to salvage two 4.5"x9" light canister bodies out of it.

The lids and ends are also made of lexan but I had to glue up a couple scrap pieces to get the desired thickness. You can also see the recess for the batteries and switch.
I was going to make a charger but ran across this Yuasa battery charger. I monitored the current and voltage on a number of charges and also tested the performance of the charged batteries. What I found was the Yuasa does as good job as I can manually monitoring the charge but I don't have to worry about forgetting the batteries and burning them up.