BEFORE AFTER

The "Big Turd" was recovered from a ship-wreck on 17-DEC-2005.
It is a 12" brass spotlight, circa 1970's, complete with an unbroken lens.
This peice got its name when we finished the dive and my buddy Ross-O said "I don't want that BIG TURD on my boat". To placate Ross, and to keep the spotlight wet until I started the preservation process, I brought along a plastic trash sack to put it in.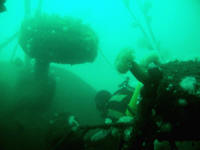 Recovering it at ~150fsw (diving Trimix)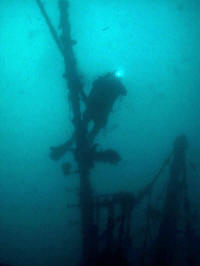 Some of the overhead and entanglement hazards
Surfacing with it was a challenge as it had filled with mud and was quite heavy. Luckily the front opened on the surface and 40lbs of mud poured back into the ocean.
Tons of marine growth had accumulated most of which had grown in the 9-months since I had last seen the spotlight.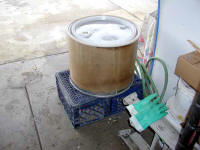 The tub I used to clean and stabilize it and the hose for the daily water changes.
The first soak in simple green and fresh water. After only a few hours it's starting to look much better.
After the first water change a lot of the growth had came off and only the really hard stuff was left.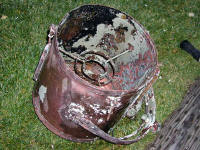 After a week of daily water changes.
Finally the screws loosened up and I was able to disassemble it.
The hand cleaning of the small parts begins while the main body continues to soak.
The bezel, internal rings and one of three bezel latches.
One wishbone clean with one to go.
The main body after a light acid wash. The copper color is due to the saltwater dissolving the zinc in the brass and leaving the copper behind. The light surface coatings of copper will be removed but the deeper discolorations will be left to preserve its character.
Here it is after soaking for a month and getting a light scrubbing.
It has taken 3.5 months to get the 182 parts ready for re-assembly.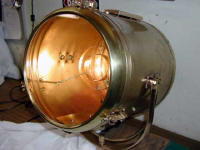 Re-assembled and sitting on a temporary base.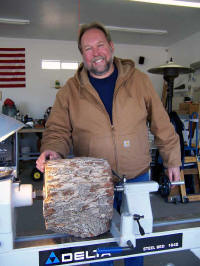 Paul and I made a really nice base for my light. Here we start with a much too big piece of Mulberry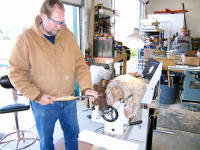 After having at it with a skill-saw we got it to spin but it was still way too big and terribly off balance.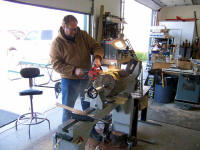 Here Paul is using a not too often seen "Tim Taylor" special wood turning tool.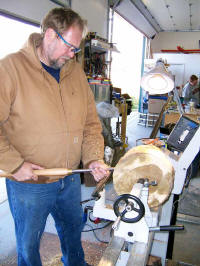 It's really starting to take shape.
The finished Piece (Thanks Paul)
Parting off, turning, boring, and threading the adaptor.
Attaching the adaptor to the base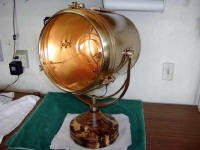 The finished piece
(I'll shoot a better picture when the oil on the base dries)