Saturday November 19, 2005


Our FIRST time in a sailboat and we sailed them ourselves (two to a boat). Our training boats were Capri 16.5's with Main-Sail and Jib. We sailed in the Basin at USMC Camp Pendleton in light wind and learned to Tack, Reach, Run, Dock, and perform a Capsize recovery.

Sunday November 20, 2005


We each single-handed our own Capri 16.5 both in the basin at Camp Pendleton and in the channel to Oceanside Harbor, We also learned to Jibe and did Man-Overboard drills in light winds along with practicing the skills learned previously.

Saturday November 26, 2005


We drove all the way up to Santa Barbara to rent our first boat on our own (a Victory 21). Unfortunately the wind went from nonexistent the day before to Small Craft Advisory by the time we arrived so no boat rental for us. We did learn a good lesson about checking the weather forecast before heading out.

Saturday December 11, 2005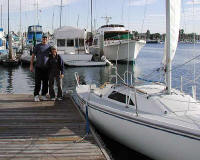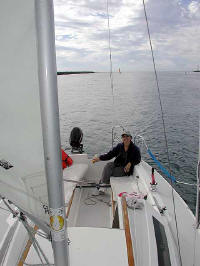 We rented a 22ft Capri from Seaforth Boat Rentals in San Diego. Winds were very calm in the harbor and while motoring out we thought the day might be a bust. Luckily once we reached the harbor entrance the wind picked up to around 5mph so off went the engine and up went the sails. Yoo Hoo, we are sailing on our own in the ocean!!! Once clear of the harbor entrance we tacked a couple times to make sure we remembered what to do then headed upwind towards Scripts Pier. As we were tacking we noticed that our course had a definite preferred tack so we kept that one longer than the other tack. A few miles out Claudia commented that the boat was turning starboard while the rudder position should be turning us to port. Moments later we came to a gentle but firm stop. Looking over the side we realized that the rudder and keel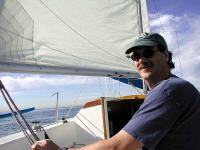 were entangled in kelp and with the light wind we couldn't sail out of it. A couple times leaning over the side, some poking with the oar, maneuvering the boat, and quite a few good tugs got us free. The rest of the way up to Scripts was uneventful with the exception of some quick tacks to avoid big kelp patches. On the way back we decided to do a run and Claudia set the sails "Wing-n-Wing" while I carefully steered to keep them both full. As we approached the harbor we did a couple controlled Jibes for practice then Claudia sailed all the way back into the harbor and put us right up to the dock without starting the engine. All in all it was a great day and we learned to watch for kelp and that we can get out of it if necessary.
Sunday January 7, 2006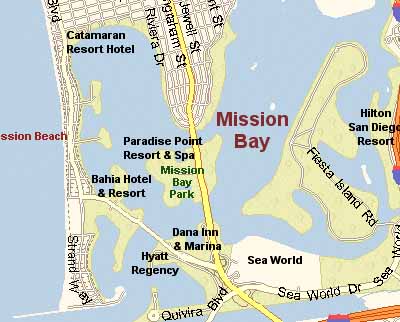 We went to the boat show on Saturday the 6th and joined a boat club in San Diego. Then bright and early Sunday morning we rented another Capri 22 and with Claudia's 18-month old granddaughter onboard proceeded to sail the entire Mission Bay area. Winds were good making for a couple exciting, and noisy tacks. We also did a few Jibs but were extra careful due to the moderate 5-10mph winds. All in all it was a fun day.

Saturday March 4th, 2006
We took the Capri 22 out again with plans to go out in the ocean. Once we left the harbor we found the swells were 3-4ft but the interval was very short making for an uncomfortable ride. About a mile out we both had enough and headed back into Mission Bay where we sailed around and around. At one point we hit our fastest speed to date 7.8knotts and that was a blast. Unfortunately we forgot to take pictures. We did bring our VHF radios and there was plenty of action that day with a sinking boat and a capsize both requiring assistance.
Saturday April 8th, 2006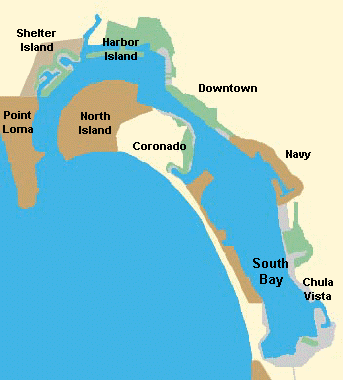 Deciding it's time for new experiences we headed to Downtown San Diego and rented a 22' Capri. Claudia's nephew Bobbie came along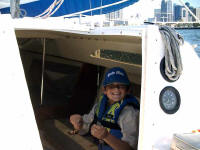 with hopes of getting some fishing in. Due to the close quarters in the marina we motored out into the bay and hoisted the sails (the first time since our class). We were a bit rusty but quickly got the hang of it. Our goal was to sail upwind to Point Loma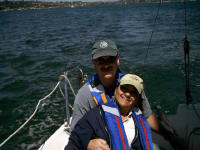 and back which is 20-mile (as the crow flies) round trip. On the way we sailed past the USS Ronald Reagan aircraft carrier and the Star of India. With a lot of tacking, some of which were very quick to avoid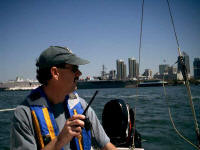 collisions, we make it within a mile of Point Loma before turning around and doing a downwind run back to the marina. Lowering the mainsail in the bay was an experience and we learned a few lessons:
| | |
| --- | --- |
| | Get the boat motor going before doing anything else |
| | Leave plenty of room for the unexpected |
| | Turn the boat completely INTO the wind before lowering the main. |
Saturday May 13th, 2006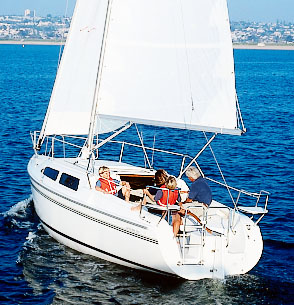 We decided if we are going to eventually handle a 45-footer it was time to move up in boat size. With that thought in mind we headed to Downtown San Diego and rented a 25' Catalina. She was a very nice boat and felt like our first REAL boat (the other boats felt like trainers or day-sailors). We motored out of the Marina like old pros and headed into the bay. Once we had sufficient maneuvering room (for the unexpected) we pointed her into the wind, hoisted the Main, un-feruled the Jib, shut off the engine, and off we went. This time we made it all the way to Point Loma and back. Along the way we tacked very close to other boats, crossed a race course with boats going every-which-way, and even held our own on an hour long downwind run with two other boats. We are now considering an overnighter from San Diego to Mission bay and back :-)
Saturday June 3rd, 2006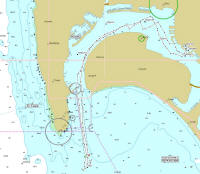 We got to the dock around 10:00am and picked up the 25' Catalina we had reserved for an overnighter. Our plan was to sail to Mission Bay, anchor in Mariners Cove, then return on Sunday morning. The day was looking good, there was wind on the bay the only concern was the fog hanging on Point Loma. Heading out of the bay we did a few tacks and eventually ended up in an area of dead calm (along with a number of other boats). This required motor sailing for about five minutes then we were back on our way. Heading out we heard that two boats had collided just outside the marina where we rented our boat. Later we found out it was one of their boats which had been holed and de-masted (the boats were on opposite tacks around a bridge piling and didn't see each other). As we entered the open ocean the fog on Point Loma was thick but it didn't seem to extend out in the ocean so we weren't concerned as our course took us 1.5-2 miles off the coastline. Even so we had a plan to navigate from one GPS waypoint to the next and if the fog closed in we would abort and work our way back to each waypoint. Alas, as we were about to make our turn Northward a powerboat approached us and it was from the rental place. They had lost yet another boat in the last few hours, this one on the rocks near Mission Bay, therefore they didn't want us out in the open ocean and requested that we turn back (see the picture of our track log). This cut our weekend short as we returned the boat instead of sleeping on it tied to the dock.