The "Mini-Twin" is a completely self contained and portable Bipolar Tesla Coil which produces up to 24" arcs. The system design and construction produced a very robust and reliable unit which works great for demonstrations.

Here Mini-Twin is set-up for the 2000 SoCal Teslathon
(representative of many other demonstrations)...
Rear view of the assembled unit, motor driven variac, and the hand-held controller.

A close view of the Primary Coils.

Internal view shows a very clean layout.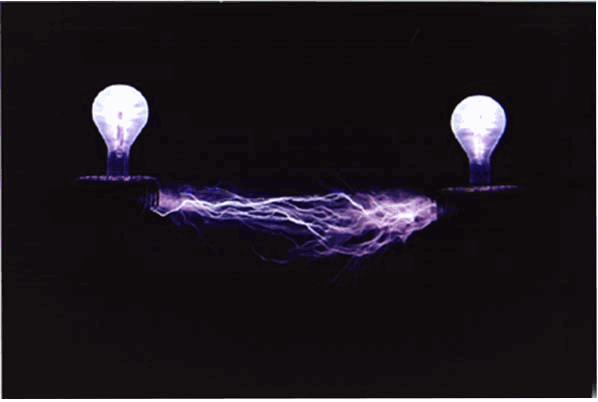 Just plug it in and your ready to make arcs like these!
(No special grounding required)
Packaged in it's two Road Boxes it's ready for safe storage or to hit the road.

The larger road box doubles as a free standing table for the coil system. There is also a black felt table cloth which renders the table almost invisible.
The Mini-Twin's Tesla Coils, and it's control systems, are completely documented in the design documents and schematics.
If you want more information you can download my paper which describes the construction details of the "Mini-Twin". This paper was published in the TCBA (Tesla Coil Builders Association) newsletter.
Download "Mini-Twin" White Paper

The Mini-Twin's initial bread-board configuration was used to test an EMMC capacitor design. Both the EMMC capacitor design and the Mini-Twin proved to be very robust and reliable.
Initial arcs and sparks from the bread-board system during continuous 5-minute EMMC test runs.

Both secondary coils were wound on the same form then separated after coating. Extreme care was taken to insure all components were mirror images of each other.