Alex Crow (from England) visited me on a rainy Friday night in February.
Here is a picture of Alex and his uncle Ivan.

We played with the mini-twin, prototype bird-cage, and finally my 6" coil. Less than 15 seconds into the first run disaster struck. The wind was really blowing and the skirt blew into the SRSG. This crashed the SRSG breaking off all the flying electrodes. : (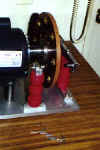 Luckily, I've been working on a new high power static gap.
A bit of reconfiguration and the coil was screaming. The ground strikes are 7' long and the output was spectacular.