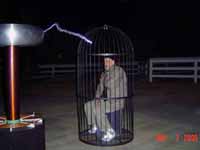 Claudia's father, Ed, celebrated his 70th birthday so we took him out for dinner
then for desert we put him in a cage and hit it with 500,000 volts of electricity.

Streamers showing the "Banjo" effect as they hit the cage right in front of Ed's face and rise from the heat.

Ross plays "Light Saber" in the background.

Claudia's sister Michiko takes a turn in the cage.